Our Swim and Gym Day Program was carefully designed to provide children with an active day of learning, fun and games! A variety of games, activities and challenges will keep the children active, engaged and excited throughout the entire day.
Our swim lessons focus on teaching the basics of breath control, buoyancy, balance, movement and safety.
Our gym lessons focus on teaching strength, flexibility, coordination and creative movements.
Our superb staff is energetic, caring and committed to creating a wonderful experience for every child. In addition, our swim staff are American Red Cross Lifeguard certified and all gym activity will be supervised by USA Gymnastics Safety certified staff.
GROUPS
MONKEYS spend the day exclusively flipping and swinging around the gym.
PENGUINS spend the day both at the gym and in the pool at Little Flippers Swim School. Child must be at least 4 years old to enroll in the Penguins group.
Each day of our Swim & Gym Day Program looks a little bit different, but will revolve around our 4 quarters of core learning. Those 4 quarters include a Gymnastics Lesson and if you choose the Penguins option, a Swim Lesson. These lessons are structured to teach fundamental skills and customized to each child's age and ability level. The next quarter is Open Exploration and Free Learning in our gymnastics facility. Children will enjoy time jumping, flipping & swinging on their favorite equipment in the gym, while guided by our staff. The next component of core learning is our daily craft. Our students will take a break from physical activity to stimulate their mind and motor skills. Lastly, each day we will have a special guest or themed activity to enjoy such as obstacle courses, petting zoos, yoga classes, agility games and more! Please note; all children enrolled must be fully potty trained.
HOURS & PRICING
Full Day 8 AM – 4 PM (AM curbside Drop Off)
Half Day Morning 8 AM – 12 PM (AM curbside Drop Off)
Half Day Afternoon 12 PM – 4 PM
Extended Day 4 PM – 6 PM for $10 per hour (select availability)
Program registration is easy and ongoing. Advanced registration is highly recommended but last minute enrollment may be accommodated.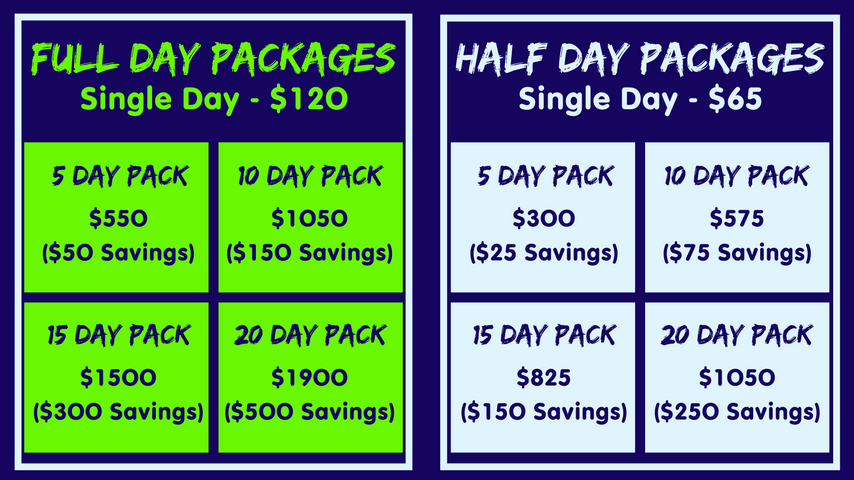 COVID POLICIES
In order to keep our students and staff safe during this time, we will be following the Health and Safety Protocols as listed on our website. Additionally, children will be wearing their masks throughout the day unless they are actively eating or drinking. Staff will continue disinfecting equipment while children are in the gym and disinfect our party rooms after the children use the space.
OUTSIDE ACTIVITIES
During our summer program, your child will be doing some activities outdoors. These activities are specified with a picture of a sun on them in the events calendar. Planet Gymnastics will be providing sunscreen and bug spray for your child. If they require a specific type of sunscreen or bug spray please bring it in your child's bag and let the staff know upon drop off.
CANCELLATION POLICY
If a cancellation needs to be made please call the front desk or email swimandgym@planetgym.com . A cancellation reported two weeks before the scheduled date will result in a refund upon request. Cancellations after the two week mark will result in a credit on your account that can be used for anything at Planet Gymnastics.
WHAT TO BRING
Participants must bring a lunch and snacks. We will offer separate seating at lunchtime for children with allergies and while eating the children are spaced out appropriately for social distancing. Our water fountains have been turned off, please send your child to the gym with a filled water bottle. Bring two if you think they will drink the first one before the end of the day. Snacks are also no longer provided. Please send your child with a snack if they will be here in the morning.
Swim Suit (Penguins Only) – We recommend one-piece bathing suits for girls and swim trunks or Speedos for boys. Rash guards are okay. No t-shirts, shorts, or sewn-in floats allowed. No swim aids (inflatables, etc.) of any kind are allowed, as they can be a drowning risk.
Towels (Penguins Only) are not provided, please pack accordingly.
Goggles (Penguins Only) are recommended but not required. They are helpful in getting a child to submerge and gain comfort while doing so. We offer a variety of goggles at our pro shop. Please note that instructors will lead some skills without the use of goggles.
Hair Elastics. All children with hair that is long enough to tie back must have their hair tied back.
An extra set of dry clothing.
Girls: Please bring either a leotard or shorts and a T-shirt for the gym.
Boys: Please bring shorts and a T-shirt for the gym.
PLEASE NO: glass containers of any kind, jeans, belt loops, baggy clothes, jewelry, or footed tights. All children will be asked to take off their shoes and socks while at the gym.

Summer 2022 Enrollment Begins on January 31st!
QUESTIONS?
Email: swimandgym@planetgym.com