Babies in Motion Co-ed (5 months – Pre-Walking)
This 30 minute class utilizes movement, play, and active exploration to help develop your baby's body and brain. By incorporating massage, exercises, and activities to engage your child's love of play, you will help nurture and foster brain development in areas of balance, cross patterning, visualization, vestibular stimulation, laterality, and both fine and gross motor skills. This will enhance your baby's body awareness, tummy time, movement, and early language skills, all while strengthening your parent-child connection. The session runs January 26, 2020 – June 14, 2020 (20 weeks).
The is a FREE class until the child turns 9-months old then there is a $20/month tuition charge. Enrollment is ongoing!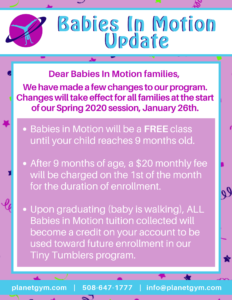 Tiny Tumblers I (1-2 y/o) & Tiny Tumblers I(1-2 y/o)
This 40 minute class will help introduce your child to the wonderful world of movement. Through the use of preschool equipment and gymnastics apparatus, your child will experience swinging, jumping, running, and balancing in a high support and low frustration environment. This class combines an exploratory component, as well as a structured obstacle course specifically created for our toddler gymnasts. The session runs January 26, 2020 – June 14, 2020 (20 weeks). Tuition: $450 when you pay in full or $99 per month (5 months of the session).
The Tiny Tumblers class is with adult participation.