Private/Semi-Private or Small Group Lessons provide students with independent instruction from one of our talented instructors. Private/Semi-Private or Small Group Lessons can be tailored to a child's specific needs while also working on skills they wish to master. Private/Semi-Private or Small Group Lessons are 30 minutes, no exceptions. Private/Semi-Private or Small Group Lessons are for all skill levels ranging from beginners to more advanced gymnasts. We can also accommodate children with special needs and our competitive team gymnasts. You do not need to be enrolled in any of our classes in order to enroll in Private Lessons, however, we do require you to be a member of our gym which includes creating an account via our website (planetgym.com), signing our waivers, and paying our yearly registration fee.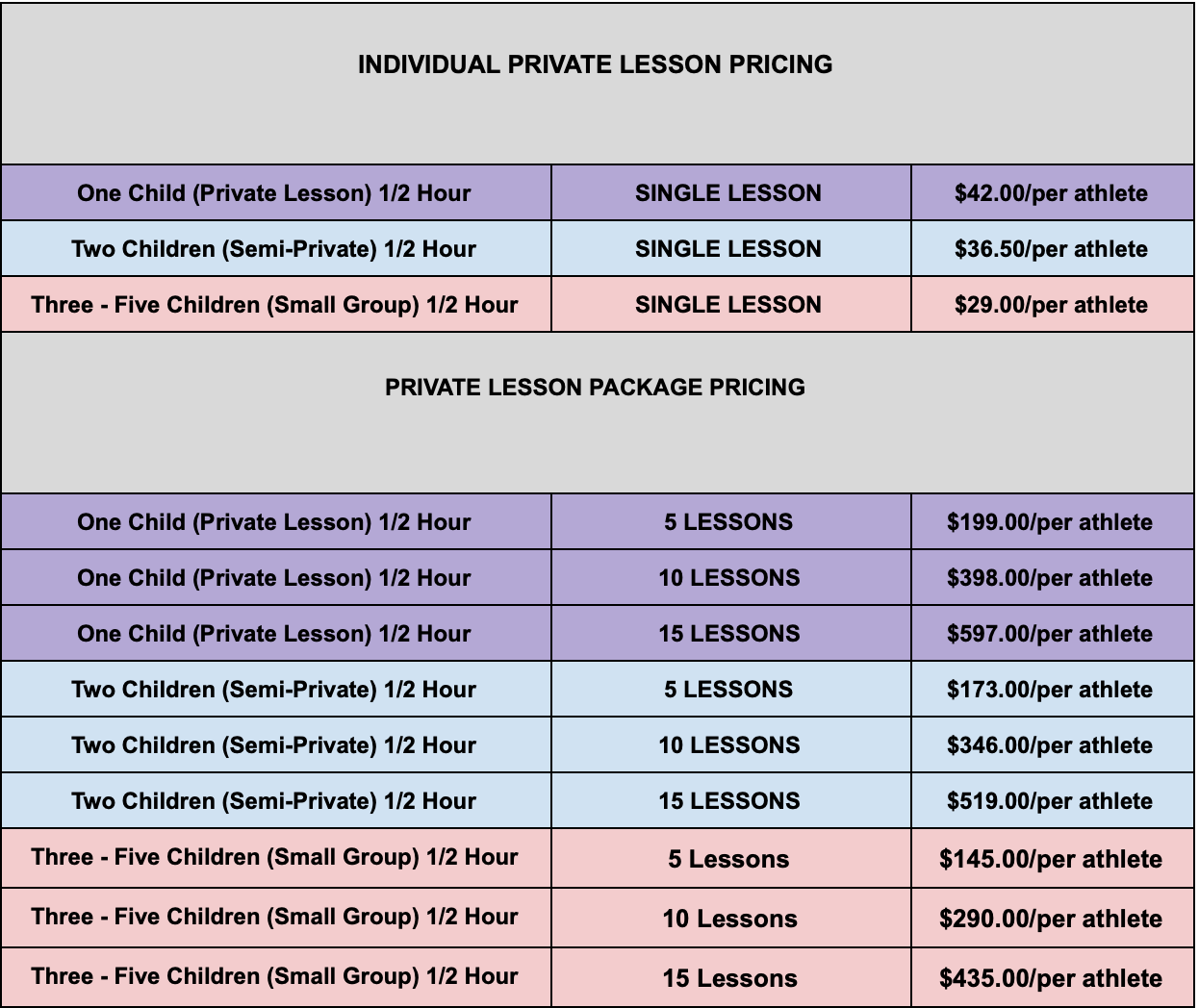 PRICING NOTES: Lessons cannot be shared between students. For Semi-Private Lessons and Small Group Lessons, all parties must sign up together. At the time of enrollment, you will be charged for all scheduled private lessons. There are no further discounts. Your yearly $35.00 registration fee must be paid to enroll in Private/Semi-Private or Small Group Lessons. If you're interested in the entire session, please make note of that when filling out your form.
SCHEDULING: All Private/Semi-Private or Small Group Lesson scheduling must be done through the main office. CLICK HERE to fill out our Private Lesson/Semi-Private Lesson/Small Group Lesson form here. We will then reach out to schedule. Instructors cannot schedule their own lessons as everything must go through our main office. We can only offer certain days and times. When inquiring we will let you know what times and instructors we have available.
ABSENCE/MAKEUP POLICY: We require 24-hour' notice of cancellation. Without 24 hours notice, you will be responsible for the cost of the lesson. With 24-hour notification, we can reschedule, however, we cannot guarantee the same day, time, or instructor. A Private/Semi-Private or Small Group Lesson may only be rescheduled once. If you miss twice, the lesson is forfeited. Please report all absences through your Customer Portal. Makeups can be scheduled through info@planetgym.com
CLOSURES: In case of inclement weather, we will update our social media accounts and website. We reassess throughout the day, so please be sure to check back often. In general, we are open for most school holidays. If inclement weather results in a closure, a make-up will automatically be added to your account. If a holiday results in a gym closure and that particular day of the week would not receive 20 classes, a makeup class would be made available to all students enrolled for that day. Please see the session schedule for any regular class closings.
Unlimited make-ups will be given any time during any group lesson session for which the child is enrolled.

Unlimited make-ups do not apply to Private Lessons or Semi-Private Lessons.

Advanced submission of absence is REQUIRED in order to be eligible for a make-up and all absences MUST be reported in the parent portal. For last-minute cancellations, please notify the office as soon as possible.

Make-up space is not guaranteed and is on a first come first serve basis.

Make-ups can be scheduled only 1 week in advance.

Absences cannot be credited towards future tuition.

We DO NOT guarantee the same teacher, time, or student ratio for group lesson make-ups.

Make-ups cannot be rescheduled; we DO NOT make-up a make-up.

Students must be enrolled in the current session in order to use their make-ups. Being on a waitlist does not count as being enrolled.

Make-ups are non-transferable and non-refundable.

All reported absences will expire 12 months from their reported date.